We're Winter and Lee Redd, and we're the parents to our 4-year old daughter Lucy and our son, Brannan, who was stillborn July 2018 at 38 weeks. We were impressed to create a legacy to honor him, and the way we know how is through podcasting. Still A Part of Us podcast allows us to talk about Brannan and also allows other loss parents to talk about their children. We hope that it is a resource for those families who have lost a child.
I'm Winter!
I work as a mom (yes, it's work!) and an investigational drug pharmacist (aka clinical drug trials). I also am a self-proclaimed food nerd and cohost/editor of another podcast called Hungry Squared with my friend Sharon. I'm married to Lee, and I'm Lee's biggest fan, partially because he used a hilarious pick-up line about argyle socks when we first met, and the rest is history. I am pretty grateful for my life.
Three random facts about Winter:
I worked at a quick lube and oil shop during my first 3 years of college, I started out as a cashier, but I got bored and asked them to train me on everything else, which they did!
I am a pretty decent food photographer, though I totally want to get better.
My secret awesome talent is encouraging people. Okay, it's more like pushing people over any obstacles in their way. I have convinced a lot of people to run races, submit their art to an exhibition, or to start a podcast.
I'm Lee
Lee is a trained chef and the owner of the Bee's Knees Waffles, where he purveys Hong Kong eggettes (bubble waffles). Lee is also an amazing sound engineer and editor a majority of the time for the Hungry Squared podcast. But most importantly, Lee is a stay-at-home dad and I will be the first to state, that he is a much better parent than I. He rocks in the parenting department!
Three random facts about Lee:
Lee is an avid soccer fan, especially the English Premiere League. He would've played more soccer if hadn't broken so many bones as a kid.
Speaking of broken bones, he broke his hip as a teen because he was growing too fast.
After I went back to work, I encouraged Lee to start a book club for some socializing. He laughed and basically said that guys don't sit around and "talk about feelings". Instead, he started a neighborhood music group ("Manly Music Monthly" according to the wives), where they sit around eating BBQ and talking, whilst an album plays in the background.
We are the parents to our 4-year old daughter Lucy and our son, Brannan. We're both local champions* in the sport of curling.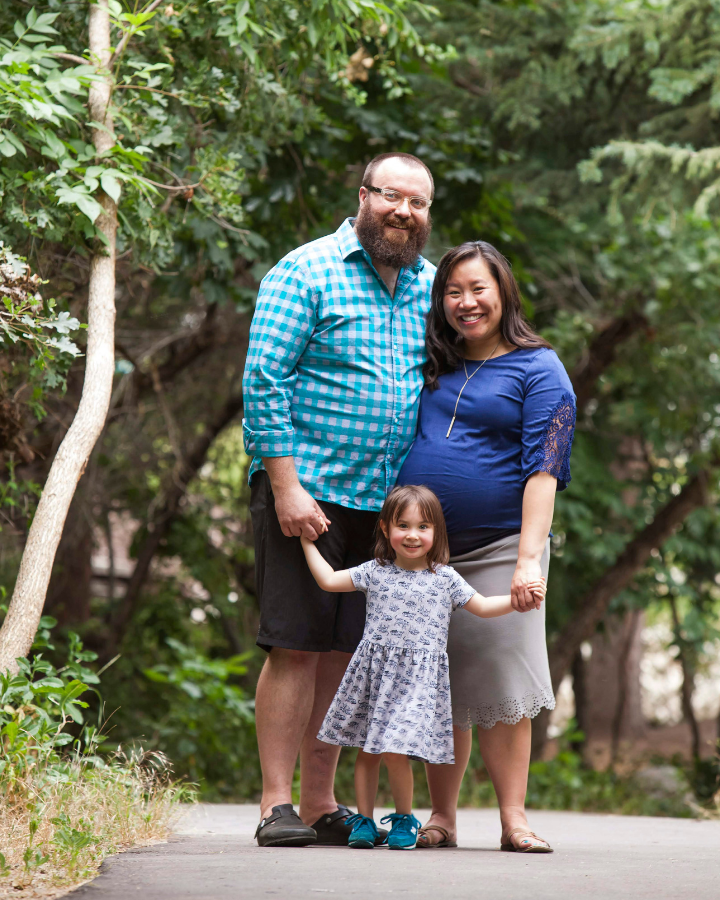 *Utah Winter Games Silver Medalists 2010